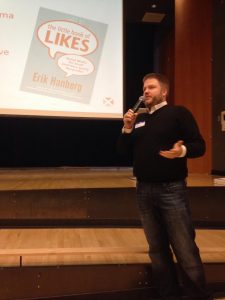 I love helping nonprofit leaders get inspired and get better at their jobs. I have spoken to groups, associations, and at conferences about fundraising, social media, being a good board member, and much more.
I'm a regular guest lecturer at the University of Washington, Tacoma, and have taught classes on fundraising, boards, and social media to groups such as SalsaLabs in Washington DC, Spaceworks Tacoma, and the South Sound Planned Giving Council.
Fees
Daily fee: $1,000/day plus travel fees.
For example, a conference that required one overnight and a flight (I'm based out of Sea-Tac Airport) would cost $2,000 (2 days) plus travel expenses.
If the conference is within a few hours drive of Seattle, an hourly can apply and can reduce costs for the nonprofit.
Note: these are all starting places, and the specifics will depend on my calendar and your needs, so don't hesitate at all to email me if you have additional questions about process or fees. 
I look forward to motivating your group!