COACHING AND CONSULTING
Erik Hanberg (bio) has coached and consulted with many nonprofits and executive directors around the country (and even now in Canada!). Learn more about getting customized support for you and your nonprofit.
PODCAST
Check out the For Small Nonprofits podcast for interviews and discussions with executive directors of small nonprofits and other nonprofit leaders. Here's the direct link to the iTunes page as well.
ONLINE RESOURCES
Robert's Rules of Order Cheat Sheet
BOOKS
The Little Book of Likes: A Board Member's Handbook for Small (and Very Small) Nonprofits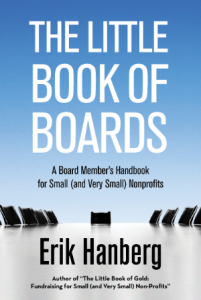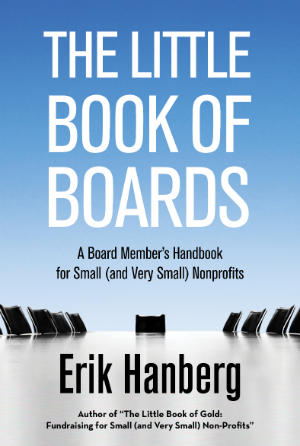 Are you new to a board and have no idea what's expected of you? Do you know what a board's six key responsibilities are? Do you know what your relationship with the Executive Director should be? If not, this book is for you.
So many board members—especially of small nonprofits—want to support a nonprofit and readily accept the invitation to join the board. It's only then that they discover they are in over their heads, with no idea of their expectations and responsibilities. The Little Book of Boards is here to throw that drowning board member a rope.
The Little Book of Gold: Fundraising for Small (and Very Small) Nonprofits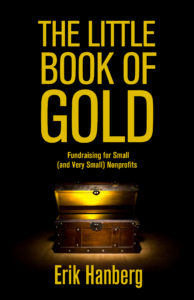 The Little Book of Gold, now revised and expanded, is a concise book that helps small and very small non-profits build an effective fundraising operation on a shoestring budget.
"It was a perfect primer for me as I prepare for a new role in my agency." — Anne Maack, Child Start, Wichita, KS
"A valuable contribution to our colleagues in the nonprofit world–especially those of us in smaller organizations that do not have dedicated fund development staff." — Jose Martinez, Executive Director, Food Bank of Yolo County, Yolo County, CA
The Little Book of Likes: Social Media for Small (and Very Small) Nonprofits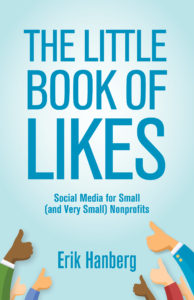 The Little Book of Likes is dedicated to helping small (and very small) nonprofits build an audience of readers–and potential donors and volunteers–on social media platforms like Facebook and Twitter.
This short guide leads Executive Directors and nonprofit marketing managers through the ins and outs of a simple social media strategy that is effective and sustainable. With real-world practical advice, it recognizes that nonprofit managers usually have better things to be doing than updating Facebook.
Like The Little Book of Gold, it was written specifically for small nonprofits as a "road map" to the often confusing and changing world of social media.